by Brian Bergen-Aurand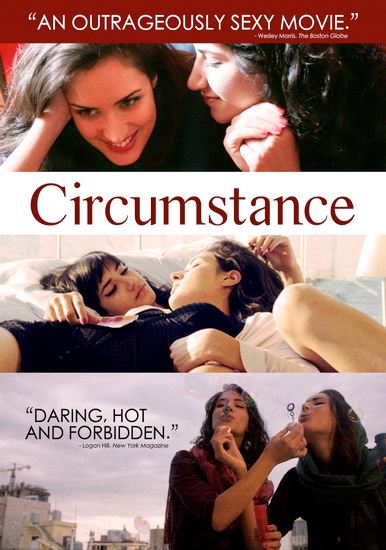 Circumstance (2011). Director: Maryam Keshavarz. Writer: Maryam Keshavarz. Actors: Nikohl Boosheri / Sarah Kazemy / Reza Sixo Safai. Countries: France / USA/ Iran
Circumstance–
A fact or condition connected with or relevant to an event or action. One's state of financial or material welfare.
Circumstance often tops lists of recent LGBT cinema from the Middle East and as one of the best lesbian films from Iran—accolades not without controversy because it was shot in Beirut, Lebanon, contains some situational and continuity errors, and presents a cast mostly from outside Iran. The film is Maryam Keshavarz's first feature as a writer/director and stars two actors in their cinematic debuts—Nikohl Boosheri as Atefeh Hakimi and Sarah Kazemy as Shireen Ashadi. Circumstance premiered at the Sundance Film Festival, where it won significant critical acclaim and took the Audience Award. Since then, it has won more than a dozen international awards, including Best First Film at Rome, the Audience and Best Actress Awards at Outfest, and the Audience Favorite, Best Director, and Best Actress Awards at the Noor Iranian Film Festival in Los Angeles, California.
Stylistically, the film is notable for its vivid colors—especially with regard to the women's costumes—and bold décor, its mixture of realist, fantastic, and surveillance imagery, and its thematic combination of European and Persian classical music, hip hop, and punk. This admixture of situations, styles, and circumstances is crucial to the film as it complicates simplistic readings of us versus them, Orient versus Occident, of oppression or repression versus salvation or liberation. As critical as the film is of the regime of control in Tehran it refuses to cite an easy alternative.
The story follows the bourgeois Atefeh and working-class Shireen through a series of adventures set in Tehran, Iran. Despite being from different social-economic backgrounds, we see them always together—at school, in their homes, on outings to the seaside, at clandestine parties and in underground clubs, in a studio dubbing copies of Milk (2008) and various pornographic films into Farsi, mixing with men, driving in cars, drinking alcohol and taking pills, and in each other's fantasies of running away to lesbian bars in Dubai, in the United Arab Emirates. From the beginning, we sense their mutual attraction and watch their intimacy grow as their touch becomes more sensual and sexual.
Atefeh's parents are connected to the university, medicine, and high culture. Her mother is a surgeon. Her brother Mehran is recovering from heroin addiction and has turned toward Islam. As he becomes more "fanatical," as his father says, he also becomes obsessed with spying on his sister and her friend and the rest of the family through the cameras he has installed in the house. Shireen lives with her uncle and grandmother. Her parents were dissidents who disappeared. Once Atefeh and Shireen are arrested by the morality police, who discover Atefeh is not a virgin, Shireen is forced to marry Mehran, who obtains her release from the police. After the wedding, Mehran begins to exert more pressure on the group—getting his father to pray, sexually assaulting Shireen and coercing her into conjugal acquiescence, and reducing his mother to living in the past. After discovering her brother's surveillance apparatus, Atefeh decides to leave, bribes an official (because she can), and arranges to leave for the UAE—where she imagines the situation must be different.
Keshavarz has said her goal was to present an accurate evocation of contemporary Iranian society because she knew the film would be seen there. The writer/director positions Circumstance as a document of the intersection of cultures in Tehran, where economics, social position, and moral presentation carry weight. It is significant that the film is shot in Beirut and thatAtefeh and Shireen envision Dubai (not New York or San Francisco) as a crucial change in circumstances. And, although some critics have argued the film distorts its portrayal to garner foreign sympathies, the filmmaker renders well the intersections and complexities that mark gender, sexuality, and kinship as always located, always a matter more of circumstance—social, cultural, political, economic, religious—than essence.